Organised Camino de Santiago walks
Whilst many people walk the Camino as individuals or groups and organise everything independently, there is another option – the organised Camino.
Walking any version of "The Way" is a physical and often a mental challenge and having pre-arranged and secured hotels rooms, meals and baggage transfers can make the actual walking more enjoyable.
Firstly, you are not dependent on accommodation availability on a first come first serve basis, secondly you know that you have a meal waiting for you on your arrival and thirdly, your baggage is transferred on your behalf to each overnight venue in which you stay.
In short this takes away most of the logistical challenges of walking a Camino and it means that you do not have to worry about reaching a particular town by a certain time for fear of being unable to get a bed in an albergue or hostel.
How to arrange an organised Camino
Organised Caminos are run by a number of different companies and most can be arranged and booked online.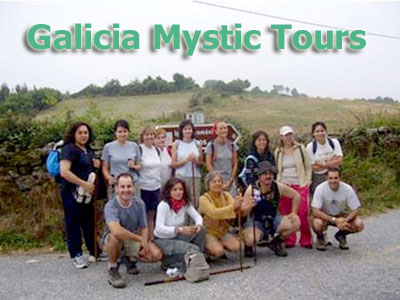 These companies pre-book your accommodation based upon a schedule and daily mileage predication determined by you and they then organise hotels rooms (to a standard specified by you) to meet your pace and duration of Camino. Vehicles then shuttle all of your baggage from one hotel to the next so that everything that you need is waiting for you on your arrival. All that you have to do is take a shower, change your clothes and enjoy a glass of wine and a meal. Many of these companies will also arrange for the laundering of your clothing as you travel so that fresh clean clothes are always available.
Medical support may also be offered by these Camino tour companies, but since all operate in slightly different ways it is a good idea to check out what is available form a number of different agents.
Costs will vary based on what you want (i.e. the level of support) and the standards of accommodation, cuisine etc that you require. Discounts are often available for groups and some companies may provide a walking guide if requested.
There are obviously a number of advantages to going down the organised Camino route and an increasing number of people choose to pass the organisational aspects of their Camino on to a third party. The downside to doing this is the loss of independence and the feeling of "taking a short cut" or "cheating" which some of those pursing a Camino for spiritual reasons may find inappropriate. Even so, the peace of mind, security, and knowledge that you are always expected at a set destination in advance has its benefits and these should not be dismissed.
A summary of Camino tour advantages
Different Walking tour companies offer different support services and any or all of the above may be included –
Luggage transfers.
Pre-booked accommodation (normally to a desired standard).
Pre-booked evening meal, breakfast and sometimes a packed lunch.
Laundering of clothes etc.
Maps, guidance information.
A human guide.
Medical support.
Flights and airport transfers.
Finally, some companies offer different ways of undertaking the Camino, for example by cycling it or travelling by horse or pony. You need to ensure that any alternative mode of travel still enable you to satisfy the requirements of the Certificate of Completion (i.e. the Compostelana).