What to take on your Camino - page 1

Clothing, equipment, medical supplies, food, preparation etc
There are three pages to this section and they all cover ideas and suggestions relating to "essential supplies" for a Camino. Clothing, equipment, medical supplies, food and good advanced preparation are the keys to a successful Way of Saint James Camino, so consider the contents of these pages carefully.
Page 1 - Preparation and what to take (clothing) (THIS PAGE)
Page 2 - What to take continued, essential items, budgeting, food and drink
Page 3 - What to take continued - Walking boots and shoes

The summer months of June, July and August are the busiest months for the Camino, making getting a bed in a refugio/albergue a little more difficult. The other disadvantage is that in places such as the Meseta it will get extremely hot and you will be carrying a heavy back pack.
The other times of year worth considering are the spring months of April and May or alternatively the autumn months of September and October. In these months you will have a slightly higher likelihood of rain, so make sure you pack the right clothing.
If you decide to go in winter the mountains may be covered in snow and some of the passes may be difficult or impassable, so plan your pilgrimage well.
Preparation
Think of the Camino as walking several marathons over the space of approximately one month (approximately 20 in total). So preparation and training is essential. If you are going to undertake any long distance walk you must prepare your body for this arduous task.
Start slowly say 5 kilometres in a day, gradually increasing this to 15 to 20 kilometres a day. Start the preparation a few months in advance. I have seen some websites that suggest starting just 3 weeks before you go, not a good idea. Giving yourself plenty of time to get used to the amount of walking you will be doing will reduce the shock when you begin the Camino proper. If you can, train going up and down steep hills/mountains as you will be faced with quite a few of these, particularly in the early and latter stages of the Camino.
An essential part of your Camino equipment is your walking boots. During your preparation wear these so you get used to them. During your Camino you are most likely to get blisters, but the last thing you want to happen is to get blisters on your first few days because your boots are too tight or too stiff because you haven't worn them before.
Another suggestion is to train wearing your back pack. As with the walking start out with the pack part full, gradually increasing the weight as you get fitter until it is fully loaded. Remember you will be carrying all your belongings with you along the Camino. If you can, do some long walks on two consecutive days, this will give you a feel of what you will expect on the Camino, getting up the next day a little tired and foot sore, but having to do it all again.
Find out a little about the facilities en-route, especially Albergues, as you may not be able to stay at the one you want and you will need to know where the next one is. Also think about what time of year you will be going, taking into consideration things such as weather conditions and the number of other pilgrims undertaking the Camino at that time of year.
What to take on your Camino
When planning what to take with you think about how long this rip is going to be, you will be carrying your pack with you every day that is unless you go on a tour which will arrange for your luggage to be transported to your next port of call.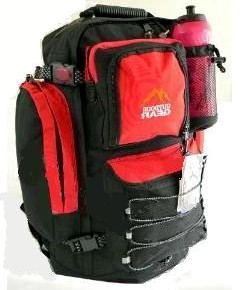 To begin with you need a lightweight yet sturdy back pack. You ideally want a back pack that has waist and chest straps and a frame that will allow the sweat to escape from your back. Don't buy anything bigger than a 55 litre back pack, most people seem to take a pack in the region of 40-50 litres, you will only need a larger one if you plan to take a sleeping bag with you. Many Albergues do not issue blankets so a sleeping bag is a good thing to take with you, along with a pillow case. Unlike hotels, the sheets are not changed every day.
Obviously depending on which time of year you undertake your Camino, the contents of your pack will differ slightly.
Firstly consider the clothing you will take.
You will need some walking trousers and shorts. There are a number of different types around but it may be worth buying a pair of zip off trousers. These allow you to zip off the bottom part converting the trousers into shorts.

Take a couple of T-shirts. I would recommend wicking T-shirts, these take the sweat away from your body and are pretty quick drying too, an essential requirement when drying facilities may not be adequate.

Take a couple of pairs of socks, possibly 3. You will notice that most people wash their socks most nights, so it is always handy to have a spare. The best socks to take are a Coolmax liner type, your feet are going to get very hot and these are ideal. You may want to take along a pair of padded hiking socks to give you extra comfort.
Take some underwear but probably no more than a couple of pairs, again you can wash these each day.
Another good thing to take is a lightweight rainproof jacket. Something like a pack-a-mac is ideal. Even if you decide to do your Camino in the summer months there is always a likelihood of rain, particularly in the mountains. Waterproof over-trousers are also a good idea. Take a warm, but lightweight fleece, something like a micro-fleece. Again up in the mountains it can get very cold and even in summer months you will get the occasional chilly night.
After the many kilometres you have walked you will want to take off your boots at the end of the day. It's worth taking along a pair of lightweight sandals. Some people suggest wearing trainers in the evening, but I have yet to find a lightweight trainer. There are some good lightweight trekking/walking sandals made by hiking boot manufacturers which can also be used when you are having problems with blisters. An alternative, just for using in Albergues is a pair of flip flops.
Talking about footwear it is essential to take a good pair of boots. Try to get some that are breathable and waterproof. Some websites suggest that you don't need to use waterproof boots during the summer, but it still rains in the summer and you may have to walk through streams.
You will need to take a mini first aid kit. Fill this with good blister protection such as blister plasters and an anti blister stick. Take some form of painkiller along with you. Even though there are a number of pharmacies along your route, painkillers in Spain are very expensive because they are still sold over the counter and unlike in the UK or the USA you can't buy them in supermarkets. If you go in the summer and decide to wear mainly shorts, a little tube of anti-chaffing cream may come in handy.
Regardless of which time you year you undertake your Camino you must take along some form of sun protection. Don't get too large a bottle, remember it is weight in your pack, you can always replenish it along the way. A wide brimmed hat or a cap is a must to protect you from the sun, as well as a comfortable pair of sunglasses.
With toiletries, again keep this to a minimum. Take along a small bar of soap, deodorant, toothpaste and toothbrush, a disposable razor and a hairbrush or comb. You can get travel type fold up brushes at most chemists or supermarkets. If you forget something there are plenty of supermarkets along the route.
A lightweight towel is also a good thing to take. A number of outdoors shops sell a type of towel that is fast drying, which again helps tremendously. You may also want to take along a flannel with which you can wash yourself. Most Albergues have shower or washing facilities but do not provide towels.
A zippable plastic bag or two are also worth taking. These can be used to put your dirty washing or damp clothing in, therefore stopping the rest of your clothing from getting damp and smelly.
Continued at Page 2 (What to take continued, essential items, budgeting, food and drink)