Camino de Santiago - French Way - Stage 32 - Arzúa to Monte do Gozo

Total distance: 34.6 km
This stage of the camino has a number of pilgrim services offering sandwiches (bocadillos), drinks both hot and cold, conveniences etc, so you should have no problem in getting some form of refreshment along the way.
From Arzúa the path goes down the Rua do Carmen, past a factory and down a paved lane. After about half a kilometre you pass through the hamlet of As Barrosas passing the Ermita de San Lázaro. The path now takes an unsurfaced track and descends to the bottom of the valley. After crossing a stream the path begins to climb again. As mentioned before there are some yellow and white painted markers here, these again are markers for a walk in this locality, ignore these. The route is still clearly marked even though the markers don't show the distances anymore, mainly because the route has been diverted away from the main road. No doubt they will get round to putting distances on them at some time in the future.
The route passes through the hamlet of Tabernavella before going into some woods, shortly after that you pass through Calzada and then Calle where the path takes you under a large horreo (grain store) that straddles it. In Calle you will find a couple of cafés.
Soon after leaving Calle you will need to cross over another stream but the footbridge is a little unstable, so beware. Also a little further along the path does have a tendency to flood in bad weather, but if this happens just keep going ahead rather than forking down it.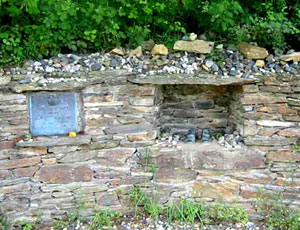 The Camino now passes through the hamlets of Boavista and Alto before reaching the small hamlet of Salceda where you will find a bar and a shop. Soon after leaving Salceda you will come across a monument to a British pilgrim who unfortunately died, I believe from a heart attack, so close to his final destination. The monument is of a bronze pair of his shoes and people are known to leave little gifts beside the monument. The plaque at the side says "Guillermo Watt Peregrino, Abrazo a dios a los 69 años a una jornada de Santiago el 25 de Agosto 1993, año santo, vivas en Christo. Roughly translated this says William Watt, Pilgrim, Who embraced god at 69 years of age, one day from Santiago, the 25th of August 1993, holy year, live in Christ". It's so sad to think he was so close to having completed his pilgrimage.
Continuing on you now pass through the hamlets of Xen, Ras and Brea where there is a stone memorial to another unfortunate pilgrim, Mariano Sanchez-Coursa Carro who died here on 24th September, again in the holy year of 1993. If you want to spend the night in Brea there is a small albergue that offers dining facilities.
The path now takes you through the hamlets of Rabiña and Empalme where there is a café/bar, a shop and a restaurant. Continuing along the Camino takes you along part of the main road and passing through some woods until you reach the picnic area known as Alto de Santa Irene. If you want to visit the 18th century Iglesia de Santa Irene or stay at one of the two albergues, one of which provides the pilgrim with an evening meal and breakfast, in the village of Santa Irene, go through the tunnel under the main road, otherwise keep straight on along the path.
Walking through some more woods the Camino goes down a gravel track towards the hamlet of Rúa where there are a couple of casa rurales and a hostal to stay in if you wish and a café/bar. About 1.5 kilometres further on you will come to the village of Arca (sometimes known as Pedrouzo). Here you will find a couple of albergues and a hostal which has its own restaurant. There are also a number of shops, a bank and a pharmacy to get those final supplies to take care of your blisters. You are now only approximately 17 kilometres from your final destination.
Some people choose to stay here and make their final journey to Santiago from here, but if you want to take part in the pilgrim mass that is held every day at 12 noon at Santiago cathedral you will need to make a very early start. Most people however, choose to make the journey through to Monte de Gozo, which is approximately 4 kilometres from Santiago.
Back on the Camino you pass through some more woods and down a track towards the hamlet of San Antón. The track now follows a path through some fields which run parallel to the main road and at the bottom of a hill you will enter the village of Amenal. After passing through Amenal the track crosses a river and climbs up to the hamlet of Cimadevila and then again through some more woods before, after about 2 kilometres, you come to a large roundabout with a stone marker close by indicating that you have reached the outskirts of Santiago.
The Camino now passes by the runway of Santiago Airport where you might be lucky enough to see a plane landing or taking off, mind you that is if you are interested in that sort of thing. The path now takes you through the hamlet of San Paio where there is a restaurant and a small hotel, and then through to the village of Lavacolla.
In ancient times when pilgrims were close to the end of their pilgrimage it was customary to stop at a stream which flowed through the village now known as Lavacolla, to wash themselves before making their final journey down to the cathedral. The name is said to derive from the pilgrims taking particular attention in washing their backsides because literally translated Lavacolla means washing the tail.
Around the village there are a number of café/bars, hostels and hotels but most seem to be catering for those making their way to the airport rather than the pilgrims so they may not be a cheap so it's probably better to continue on to Monte de Gozo for accommodation.
The Camino passes the Iglesia de Benaval which is dedicated to a local man called Juan Pourón who during some local unrest was sentenced to death by the local magistrates. Just as he was about to be hung he shouted out to the Virgen de Belen (Virgin of Bethlehem) "ven e valme" which roughly translated means come and save me. The Virgin heard his plea and sent him straight to heaven thus preventing a painful death through hanging.
The Camino continues down some quiet roads and down through the village of Vilamaior where there is a casa rural and an old pazo converted into a hotel. Continuing on you will pass a couple of television stations belonging to Television Galicia as well as for the main Spanish channel Television de España. Just a little further on you arrive at San Marcos where there are a couple of café/bars.
About 1 kilometre from the village of San Marcos is your resting place before the final short trek into Santiago de Compostela, the extremely large pilgrim complex of Monte do Gozo. It is tradition that if you are walking in a group the first of your group to arrive at Monte do Gozo will be designated a pilgrim King (or Queen if it happens to be a woman).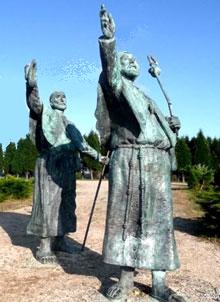 The name Monte do Gozo means mount of joy. After the pilgrims had finished their wash at Lavacolla they would ascend to the top of the hill which looked out over the beautiful town of Santiago de Compostela and the spires of the cathedral in the distance. The joy came from what the pilgrim felt at seeing his journey's end. In the complex you will find a statue of two pilgrims looking out toward the cathedral. There is also a modern sculpture that was put up to commemorate the visit of Pope John Paul II visit in 1993. He performed a mass here to thousands of people.
The albergue here as I've said is huge, it accommodates around 500 pilgrims and if you have your credencial you can stay here for free for one night only. If you choose to stay longer they will charge a small fee. The complex has all the amenities including shops, restaurants and café/bars all geared to the pilgrim. If you can't find accommodation in the Albergue San Marcos there are a couple more nearby over the other side of the motorway.