Ourense's churches
In addition to its provincial cathedral, the city of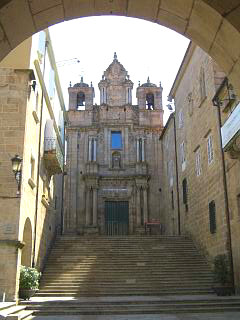 Ourense has a number of more than note worthy churches normally called "Igrexa" or "Iglesia". Without doubt the most impressive amongst them are the church of "Santa Maria la Madre" and the church of "Santa Eufemia".
Iglesia de Santa Maria la Madre
The "Iglesia de Santa Maria la Madre" was actually built quite recently in the 18th century, but on the original site of an ancient 11th century church. It is the frontal aspect of this building that captures the attention with its slender and elegant baroque facade and its graceful marble columns. It has two symmetrical bell towers either side of a highly decorated central feature and the intricate carving is comparable with any Masonic work you are ever likely to see. Most tourists approach the "Iglesia de Santa Maria la Madre" from below via a cascading flight of stairs that starts to one side of the Episcopal palace in the
Prazo Maior
. On spotting the church, they then try to frame a photograph of it looking through the enclosing arch (just as I have, above right).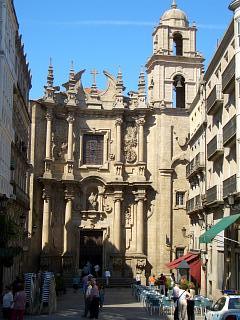 Iglesia de Santa Eufemia
Another of Ourense's churches of exceptional note is that of "Santa Eufemia". This is another baroque style church with three naives and a spectacular alter that is only exceeded in size by the city's cathedral of San Martino. The church of "Santa Eufemia" has possibly the most impressive facade in Ourense and its flamboyant baroque twists and curves, minaret's and carvings ensure that it catches your attention as soon as it is in view. It has a three dimensional main facade and, as you look up from below, you can see that the front wall is in fact concave and bows out slightly to the sides. Like the church of "Santa Maria la Madre" its frontal elevation is narrow, but that is where the similarities between these two churches end and both these buildings offer a perfect opportunity to compare the differing baroque styles on display in Ourense.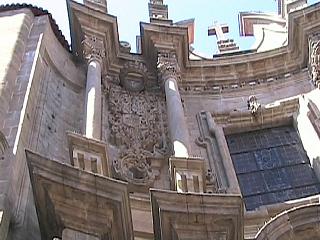 The photo to the right shows a close up of the elaborate baroque detailing at high level on the main facade of Santa Eufemia Igrexa in the heart of the old quarter.


More Churches in Ourense old town
Other churches worth looking at include the fourteenth century "Igrexa de San Francisco" located just outside the medieval district. This church has a Gothic cloister and no less than 63 arches, each supported by a double column.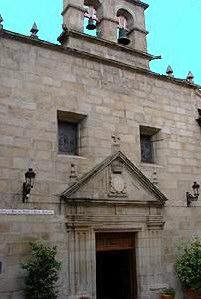 Another of Ourense's well visited, although not especially spectacular, churches is the "Igrexa de Santo Domingo". This church lies only a short walk away from the city's cathedral and main monumental area and is a primarily renaissance in design, but with some baroque internal detailing. It also has images and relief's including those of the Virgin Mary and its patron. Photo right.
Return to the Ourense home page