The Ourense Province
Sitting in the south west of Galicia, Ourense is bordered by two of the regions other provinces, namely Pontevedra to the west and Lugo to the north. Leon and Zamora can be found to the east and Portugal lies below and to the south.
Ourense covers an area of approximately 7,300 square km and is the only province in Galicia that does not have it own coastline. It is also Galicia's most isolated province and until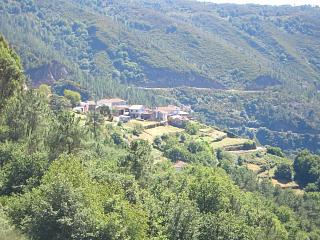 quite recently the railway network provided the only convenient route into and out of this district. Things have now changed and although Ourense is still surrounded by mountains, several highway routes make visiting this area considerably less troublesome, especially if you travel from Vigo or Santiago de Compostela. Right, the spectacular landscape of Ourense province.
One thing that perhaps diminishes Ourense's importance, is the fact that its capital city is its only urbanization of any real significance, at least in terms of population. The province has around 350 000 inhabitants and a massive 30% of them reside in Ourense city itself. No other cities of note exist and the provincial population is barely greater than that of Galicia's largest city, Vigo. That said, there are some ninety or more towns and villages scattered across Ourense and some, including "Ribadavia", "Allariz" and "Verin", have active populations, industries and economies. But as any cultural tourist will know, size and population do not necessarily equate to interest and visitor appeal.
Geographically, Ourense is mountainous and has an important river system that connects most of its towns. The river Mino has the sitting of the capital city on its banks, but the rivers "Sil", "Arnoya" and "Limia" are also important and contribute to the area's agricultural based economy. Scenically Ourense has vast expanses of meadow land and these complement the large granite formations and mountainous hills the make up the province's landscape. Almost 20 reservoirs also add to Ourense's physical landmarks and "rod and line" fishing is a popular pastime.
Farming and agriculture are Ourense's largest employers, with sweet corn, potatoes and wine (Ribeiro) been the dominant crops and poultry and pigs been the livestock of choice. Other industries also exist and the province has bottling plants and chemical companies, although mostly connected with farmed produce or its preparation and pre-sales treatment.
Compared with Galicia's Coruna, Pontevedra and Lugo, Ourense is definitely at the bottom of the international tourist visitors list and foreigners are relatively few. Tourist information offices can none the less be found throughout the district and some of the older towns have appealing medieval quarters with buildings dating back many hundreds of years. Most of these towns also have the added advantage of being almost unseen by tourists making a visit a genuine exploration of a real piece of Galician history. Ourense also has its fair share of monasteries, castles, and manor houses and demonstrates architectural styling ranging from Baroque and Gothic to Neo-classical. Finally, Ourense has some of Spain's best ski slopes in the area of "Manzaneda", although this is a secret kept quiet by the Spanish.
Famous Person: Spanish and Galician fashion designer, Adolpho Domingues, is from Ourense.
Back to the Ourense Galicia home page