Our opinion of Ourense
I won't "beat around the bush" with Ourense. We thought it was a fantastic city and it exceeded every expectation we had of it.
Although the approach route to Ourense city suggests otherwise, the old town, with its many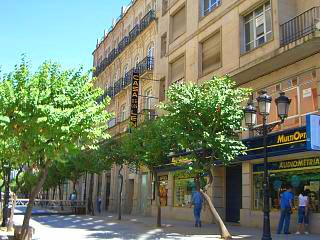 medieval buildings, attractive squares, colonnaded archways and beautiful churches is one of Galicia's highlights.
Most of our exploration focused on the main sightseeing area in the vicinities of the cathedral, the town hall and las Burgas spa, but we also visited the Roman bridge and had a general look around the city as a whole.

The old district of Ourense really is a gem and offers many surprises. You can turn a corner, look through an arch and see an elaborate church facade, or climb a few stone steps to find yourself in stunning little plaza enclosed by magnificent old buildings. The historic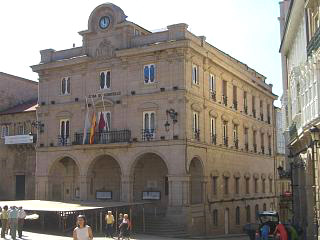 parts of Ourense are clean, well preserved and maintained with undoubted civic pride and we felt that our journey there, of some two and a half hours (each way), was well worth the effort.
To the left is a photo of the casa de concello, an important civic building in the old quarter.
The main parts of Ourense, or at least those that would interest a tourist, can be comfortably explored during a day trip, although anyone who struggles with climbing slopes needs to be aware that this city is built into an incline. (Many of the photographs we have included show this.)

We were particularly impressed with some of Ourense's old squares, but if not disappointed, slightly frustrated by the close proximity of some of its monuments including the cathedral, to other buildings.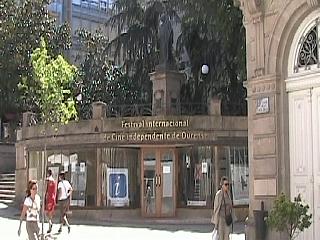 This proximity acted to prevent an overall view of structures like the cathedral and made it hard to take photographs. That said, this is nothing more than "nit picking" and no historic sight is built with a tourists potential photo album in mind several hundred years in the future.
Above, a photograph of one of the town's tourist offices close to one of the old plazas. On the day of this picture (Sunday) the office was of course closed!
Finding a serious down point to visiting Ourense is very hard, but if there is one it relates to its relative isolation. Whenever we travel on a journey of more than a couple of hours, we like to break it up by diverting to another town or village on route. Traveling to Ourense from Santiago de Compostela simply did not offer this option and although we made a diversion to "Monforte de Lemas" on the return trip, this did take us further away rather than closer to our starting point.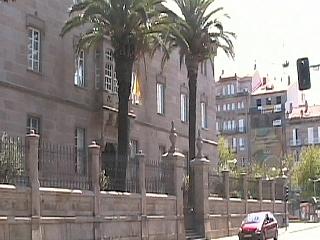 The compensation for a journey's duration in Galicia is, as always, the scenery you pass on route and most will view this as part of the day out anyway.
So, should you visit Ourense? The answer depends on how long you plan to stay in Galicia, where you are based and how many cities or provinces you want to take a look at. Despite its appeal, Ourense has less to offer than Santiago de Compostela and is considerably smaller than A Coruna. Although it has Roman connections, it does not have a magnificent wall like Lugo and its surrounding areas are more sparsely populated than Pontevedra. Non the less we would rate it on a par with Lugo and perhaps slightly ahead of Pontevedra in the tourist stakes. So if you want to explore "real Galicia", Ourense should probably be on your agenda.

Return to Ourense Galicia general page.