The city of Ourense, Galicia
The city of Ourense lies in a valley and most highway routes approach it from above offering a view that initially does not appear to flatter. This initial impression takes a further turn for the worse as driving through the outer districts of Ourense city display the least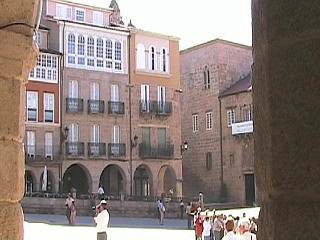 appealing parts of this provincial capitol. There is though a reason for this, Ourense city has three areas. The first and most notable is the medieval district which is the target for sightseers, but beyond that lay the expansions of firstly, the 19th century and secondly, the urban developments of more recent years.
Above, part of the Maior square in the heart of Ourense old town.
Once in the center of Ourense, things take a positive turn and a visitor can start to explore the oldest and most original parts of this beautiful city. Here a tourist will find churches, small squares, an old Roman spa and no shortage of cafes and bars, most of which are reasonably priced and offer snacks and meals. The compact nature of Ourense's old town also makes it ideal for exploring on foot, although it should be born in mind that many of the parts worth seeing are built into an incline.

Unlike most of Galicia's other cities, Ourense blends the old with the new. On the outskirts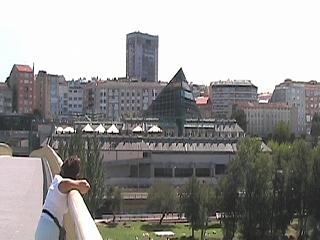 of Ourense you will see a contemporary business park with futuristic buildings in it. Also on the fringe of the city are some cleverly landscaped urban parks, themed on being used by the family rather than solely providing employment for gardeners. The main attractions though are the streets, squares and buildings in the city's old quarter and there are plenty of them. Above, a view of the newer part of the city from one of its bridges.
Ourense's old quarter is very much a town where the overall impression exceeds the sum of all its parts. The streets are frequently planted with slender trees and although the buildings that line them are often tall, they retain an open and airy quality. Many of theses buildings also have spectacular detailing if you take the time to look up above the business and shop fronts at ground level.

Ourense benefits not so much from having a small number of grandiose structures offering a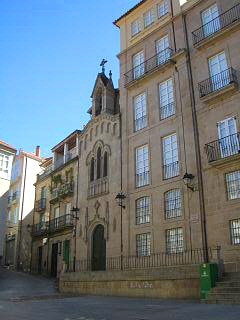 spectacular aesthetic reward, but by being a genuinely attractive town throughout. Additionally, unlike Pontevedra city, once in the "monumental district" you see very few buildings that are in a poor state of repair, or out of keeping with the area as a whole.
If you like architectural and historical reference points, you will find plenty of them in Ourense and its older quarter. Examples of design representing Romanesque, Gothic, Neo-classical and Baroque buildings are abundant. Statutes and civic monuments are also common place and some of the provinces civic structures are both detailed and large in scale. Ourense also possesses some of the most attractive squares and plazas in all of Galicia and their locations, often on sited on level areas reached by a short stair or ramp, help make them all the more appealing. Many buildings also have arched and colonnaded walkways running below them and on a hot day they offer some refuge from the sun. Ourense is very much a city where turning a corner can provide an unexpected and usually rewarding view, be it a Gothic facade or a quaint little square. The old town of Ourense really is one of Galicia's hidden treasures and few who visit it are disappointed.

Beyond the old town
Although most tourists hone in on Ourense's old town, the rest of the city is also worth a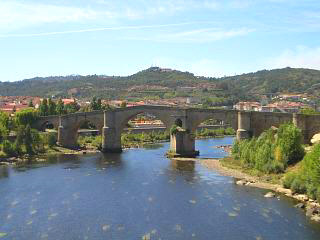 look and has all the facilities one would expect of a provincial capitol. In addition to the shopping areas, hotels and business districts, Ourense also has its famous Roman bridge, but this is not the only large bridge to span the river Mino. Within a couple of hundred yards of it lay two more bridges and, when viewed together, they create quite a spectacle. One of them, a foot bridge, also affords some great views of the river Mino, the old Roman bridge and the city itself, if you walk mid way on to it. The picture above is of the Ponte Maior Roman bridge.
As a final confirmation that foreign visitors to Ourense are few, we had an excellent continental breakfast in a cafe full of Jazz musical memorabilia just outside the cathedral of Saint Martin. The waiter, who was friendly and talkative, listened to our English accents and determined quite categorically that we were French! He repeated our order, given to him in Spanish, back to us in French and bid us a customary farewell in our favourite neighbour's language. For his sake, I hope he does not manage to make the same, but reversed nationality assumption with a French couple. I suspect they may not find the bestowal of British citizenship quite so amusing. But then I suspect that the British and French have far more similarities than either would like to openly accept.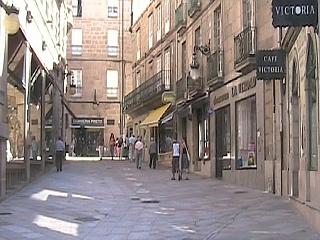 Moving away from Ourense's capitol there is still plenty to see and explore, although the bays and seaside towns of Galicia's other three provinces are replaced by rich landscapes and towns that have evolved around agriculture rather than fishing.
Right, another quaint street in the capitol.
Return to the Ourense home page