Ourense History
Ourense was originally a Roman settlement and came to prominence as a result of its location and the ease with which the river Mino could be crossed at the point where the city is now located. At that time a trade route called the "Ruta de la Plata" existed and it is believed that Ourense sprung up and came to prominence because of this. Part of Ourense's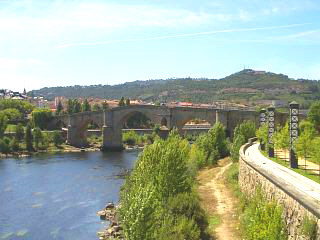 oldest bridge still has the abutments of the original "Puente Viejo or Vella" bridge of that period, although most of what is visible today has been rebuilt over the years, particularly during the 13th century (Bishop Lorenzo in 1230 AD) and later in the 15th century. The bridge has seven arches and its longest single span is approximately 50 yards. (Photo above right.)
The Romans love of bathing and warm water also resulted in a significant spa (las Burgas) emerging during this occupation. Large parts of this spa remains intact today in an ornamental garden. The original name of the settlement, now known as Ourense, was "Auria".
Periods of calm have always been interspersed with times of violence in Ourense and the "Swabian" rule, that the province fell under during the middle ages, was such a time. This was followed by an attack by the Moors who sacked much of the area in 716 AD. Following this, in the ninth century, King Alfonso III re-established resident rule and also initiated the construction of the cities now famous cathedral.

Below, the gardened area in the, once great, Roman Spa in Ourense's old town.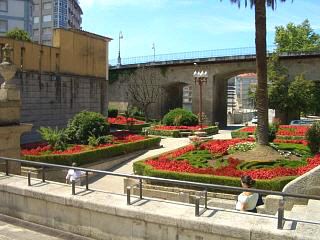 This was not the end of warring and invasion though and the Arab, Al Mansur, was the next to attack Ourense, again destroying much of its civilization. Calmer times did follow, especially under King Sancho II who redeveloped and resettled the province in the eleventh century.
Economically, Ourense has been a poor cousin to the other three Galician provinces and this can largely be explained by its remote location. Today transport and the movement of trade is not inhibited, but in the past Ourense's position, surrounded by mountainous geography, resulted in its isolation. Even now, it remains the province that suffers the greatest migration of its population to other parts of Spain and beyond and the arrival of external investment is limited. Ourense's traditional industries were iron foundries, clothing manufacture, the milling of flour and sawmills.
Link to the main Ourense overview page.