Hostal de los Reyes Catolicos
This building lies adjacent to the main facade of Santiago cathedral on the Obradoiro plaza.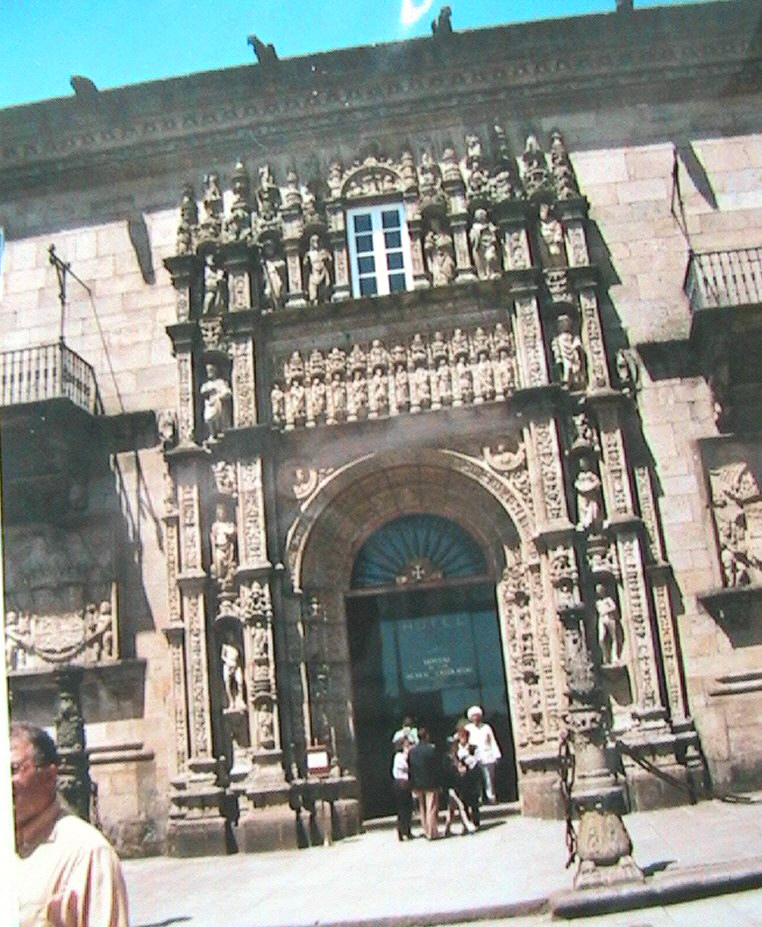 It has an extended and interesting history which has seen it house a hospital, the world's first hotel (claimed) and now one of Spain's sumptuous state run paradors.
Right, the main entrance to the building with its elaborate portico and crafted stone decoration (Laurie Lamber 1999).
Aside from the building's obvious prominence through its position, it is a "stand alone" example of Galician architecture and has a decorative frontal elevation designed by "Enrique de Egas". This facade includes sculptures, coats of arms and a series of narrow windows, but it is the internal features of the building and its geometry that really make it special.
The Hostal de los Reyes Catolicos has no less than four colonnaded and interconnected courtyards within its walls. Two of these little piazzas date from the eighteen hundreds, but the two earlier squares are from the sixteenth century and feature water fountains at their hearts. The later courtyards are of a baroque design and were constructed during extensive remodelling and renovation.

Historically the Reyes Catolicos building has seen various transitions in its use. It was commissioned by the Spanish king in the fifteenth century as a hostal and hospital for Santiago's visiting pilgrims, but it has some other idiosyncrasies.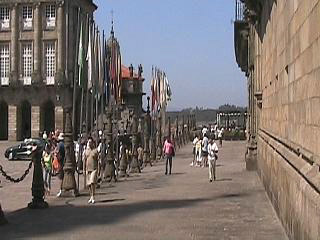 There is a narrow corridor in front of the building, denominated by a rope chain (see photo left), and in times past any criminal or wanted man could seek harbour in this area and be free from arrest. This rule could of course be lifted if the hostel's principal gave his "consent", in which case the law breaker could be taken into custody, tried and sentenced.

The Hostal de los Reyes Catolicos' present use as a parador was initiated in 1953 and it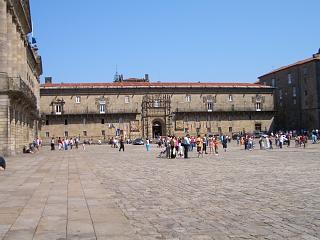 offers luxurious accommodation in the center of Santiago for those privileged enough to afford it. The hotel is often used by passing dignitaries and those with more flexible accommodation budgets. It is one of the four iconic buildings that surround the Obradoiro plaza, Galicia and Spain's largest city square. Above, the full frontal facade of the Hostal de los Reyes Catolicos building as seen from the large plaza de los Obradioro. The cathedral is out of shot to the right.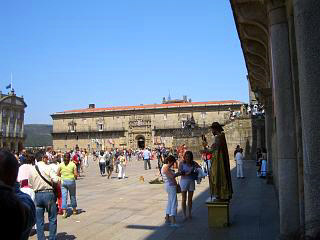 Left, a final photo of the building taken from under Santiago cathedral and looking across the piazza. The Rajoy palace is just in view to the right of the frame. What appears to be a statue in the foreground is an impersonator of the apostle saint James.

---
Useful information: Although a parador hotel, none resident visitors can request a tour of the building's original historic areas at ground floor level (I believe this is free of charge and includes the small courtyards).