Santiago de Compostela tourist map
The Santiago de Compostela map below gives an indication of how compact the city's centre actually is. Some of the larger and more interesting historic buildings can be identified by using the "legend" to the left of the map. This map, or one very similar, can be obtained free of charge from tourist points throughout the city.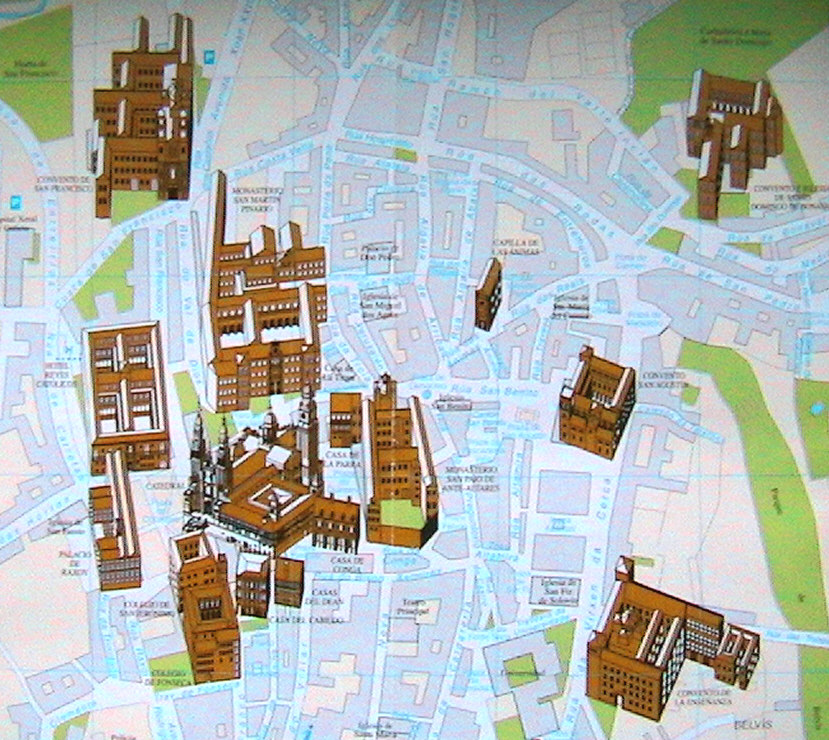 Map Legend
The main buildings shown on the map are:
(top left) the convent of "San Francisco".
(top right) the "Carbelleira e horta de Santo Domingo".
(bottom right) "Convento de la Ensenanza".
(right center - the square building) the "Convento San Augustin".

The cluster of buildings in the center are, clockwise from the top:
(top, the 12 "0" clock postion) the "Monasterio San Martino Pinario".
(three "0" clock postion) "Monasterio San Pajo de Ante altares".
(six "0" clock position) "Colegio de Fonseca & Colegio de San Jeronimo".
(the two buildings at the nine "0" clock position) "Palacio de Raxoy & Hotel Reyes Catolicos".
The building in the very center is Santiago de Compostela cathedral.
For more information on Santiago, Galicia's capital, follow this link to the main Santiago-index page, or select from the menu to the right.