Santiago cathedral pass
If you have time on your hands, an interest in history, or just want to explore Santiago's cathedral as thoroughly as possible, you may want to consider purchasing a cathedral pass.
You can buy one of these passes at various points about the building, most notably at the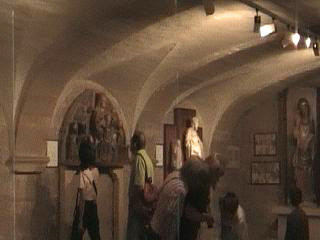 entrance to the crypt adjacent to the main stair on the Obradoiro facade. The pass only costs a few Euros per person.
What you get for your money is ingress into and up to, the various rooms and floor levels of the building and there really is a lot to see. To give you an idea, we spent over one and a half hours just walking round and casually browsing the exhibits and rooms before lunch time arrived and we were politely asked to leave. Above, a room in part of the museum area.
So what is there to see!
Most visitors buy a ticket at the crypt and, like us, are highly disappointed with what confronts them in this small and uninteresting area. (The tomb of St. James is not there, but just off the main hall of the cathedral above.)
The crypt though is not what you are really paying to see. What you actually get is an "all access" pass to three or four floors of the cathedral with rooms displaying various historic and religious exhibits. You also get to enjoy the spectacular views from the colonnaded gallery to the right of the cathedral's Obradoiro elevation, to see and walk around a large internal courtyard and to explore the ancient structure of what was once the Archbishops residence.
Highlights of this tour (which you make unsupervised and at your own pace) include entering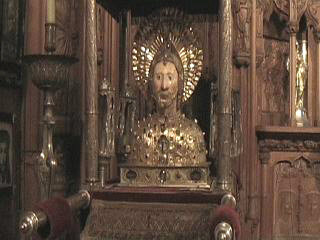 a room containing a thirteenth century bust of the Saint (below) and a highly ornate wooden altar. Various pieces of art and other sculptures also fill this small and dimly lit space.
A couple of floors have interconnected rooms which today take the form of a mini museum and in these you can see silverware, tapestries, paintings and sculptures. There is also a glass floored area, under which the remains of a medieval street can be seen. You also get the chance to see, close up, one of the large incense burners called a "botafumeiro". These devices are swung upon high in the cathedral during services and fill the air space with incense. They are over one and a half metres high and weigh in at around sixty kilograms. Their use has become an integral part of worship and tradition in the cathedral.

Below, a section of the wooden altar in a small but artefact "packed" room.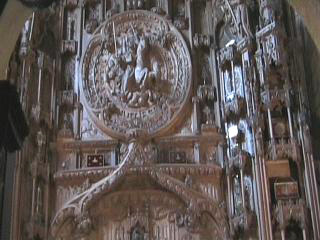 Ascending an old structure, which I believe was originally part (or all) of the Bishops residence is another benefit of the "ticket". This building looks and feels ancient and I was not terribly comfortable walking on some of the old and highly flexible floor boards on the top most floor level. This building does have a small number of exhibits, but its main appeal is its age.
Others areas you can explore contain statues, busts and artwork and you can also see some great examples of ceiling vaulting.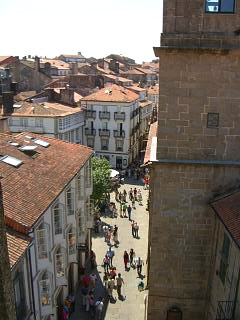 All told we thought that this additional access to the cathedral was value for money. We explored the various rooms and levels without any great knowledge or religious calling and found what we saw interesting and not overly "heavy going" as can sometimes be the case. The real highlight for me though, was the views of the Obradoiro square and beyond that you get when perched on the gallery of the cathedrals right hand wing. From here you not only see the main square but also parts of the town (see left)
Return to the main Santiago page.