Mama Mias Pizzeria
For good value food in Noia, a pizzeria called Mama Mias is as good as it gets. It is located behind the large town square (alameda) to the back of the second of the two large pink apartment buildings. This restaurant has an extensive menu of pizzas and pastas along with some veal, fish and pork courses, but you can also have an informal three course dinner there as well. We have eaten at Mama Mias mdozens of times and have never been disappointed with either the quality of the food or the friendly service.
Below, the exterior of Mama Mias.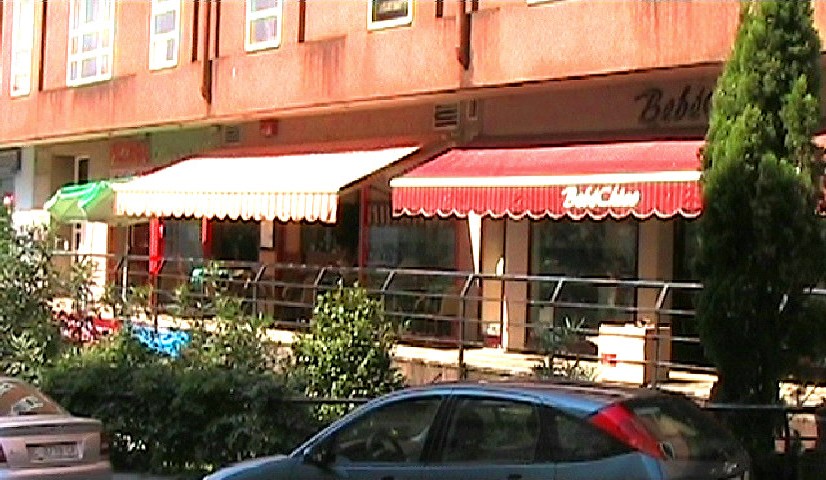 The menu
Their stuffed peppers, along with seven or eight different salads and pastas are all great starters. Their pizzas, of which there must be at least 30 or 40 different types, are made in full view of the restaurant by the owner who speaks some English and also has a tendancy to sing from time to time. Also try their home made chocolate dessert, it is at the back of the dessert menu, for one of the best chocoholic trips you are ever likely to go on.
If you don't like pizza, but want an economic meal in relaxed surroundings don't worry, they have pastas and meat dishes too (although only served with chips/french fries or salad).
The restaurant is on two levels and has a small "standing only" bar area. If you go to Mama Mias after 10.00pm you will probably have to wait for a table (only parties can book). There is always a lively atmosphere and everyone who goes there is smart, although not formally dressed. They have a lot of parties/groups and their cliental cover all age ranges, so most dinners will feel comfortable with the atmosphere and surroundings. They are closed on Mondays, but open mid morning on most other days.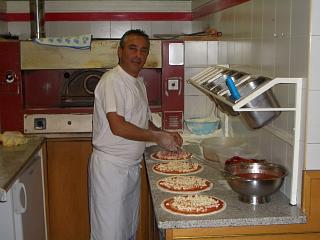 Left, The "big boss" Moncho at work. (He also "throws" the pizzas the correct way.)
Typically a pizza will be between 5 and 7 euros per head, but you can easily have three courses and a couple of drinks for 25 euros for two people.
Positives and negatives:
This is one of only a few Galician bistros and bars that actually has a smoking and none smoking area and, although the owner Moncho is a smoker, he does enforce the rule. (Due to EU law the whole restaurant is now non smoking.)
As with all Spanish bars and restaurants there is the almost obligatory TV running away in the background, usually featuring a football or tennis match, but the volume is very low.
Having to queue up for a table is often necessary in the late evening (i.e. especially after 10.15pm on Friday and Saturday) when most Galician's choose to eat. Phone orders and take-away pizzas are also serviced from the restaurant if you want a takeaway.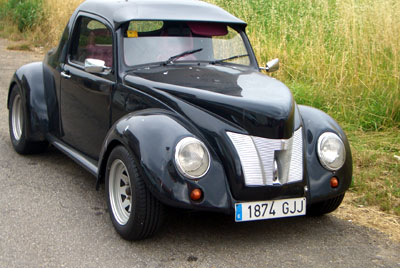 The only real down side to this restuarant is the fact that there are two kitchens, one for the pizzas and one for everything else and the two are not synchronised. So, if one person orders a pasta and the other orders a pizza they will not arrive in sync - at least not most of the time.
Finally, in 2009 we had a 3 course meal with a bottle of house Albarino and coffee to follow with a total cost for two of under 35 euros.
2012 UPDATE - Although this restaurant is still owned (or the lease is owned by) Moncho, it is now run by new management. However the menu remains the same and we have eaten there several times and the food and service (mostly the same waitresses) are still pretty good.
The new "main man" previously ran a pizza restaurant in Porto do Son, so he knows what he is doing. I do not have a photo of him at work, however I do have a picture of his customised VW Beetle. See above.
Back to the Noia Recommendations page