Noia Galicia - A typical Galician town
This page looks at where to go and what to do, in and around Noia. Hopefully, it will give you a feel of what to expect and how you can occupy a day spent in this coastal town.
Out and about in Noia
It is difficult to try and find a town in the UK, let alone in the USA, that can be likened to Noia in northern Spain's Galicia. The same would also be true of suggesting a State or County with similarities to Galicia. That said, it would probably be fair to say that Noia is similar in size to Otley in West Yorkshire (England). Whitby on the North Yorkshire coast, with its fishing heritage, could also be a likely candidate for the analogy.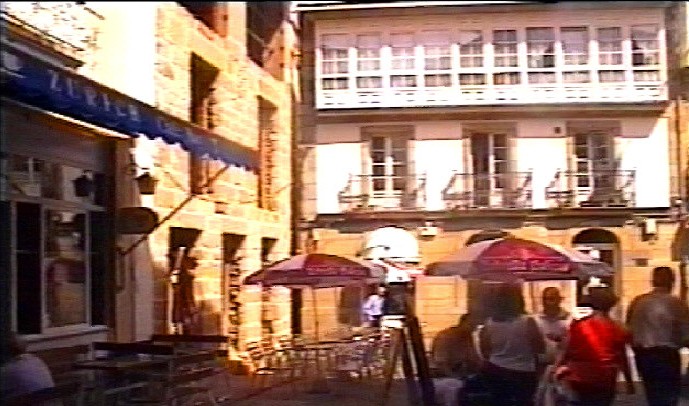 If you are not British and think that you have never heard of either of these places, then think again. Whitby is the famous port featured in "Bram Stoker's" book (and subsequent films) "Dracula" and Otley was the home and factory base of Thomas Chippendale, the furniture designer and manufacturer. (So you do know a little bit about them after all!)
Above right, a random photo showing part of the medieval district of Noia with a galeria balcony clearly in view above the parasols (July 2003).
Noia has a couple of main route roads running through it, bisected by another very old street, from which most of the lesser roads and paths originate. It has four supermarkets, although not of the size of a typical Asda (Walmart) or Sainsburys. It also has an amazing number of shoe shops, we counted no less than 14 in 2002. Additionally, it has an indoor two storey market and a twice weekly outdoor market, a must if you like bartering. It has a sports hall, indoor swimming pool and tennis courts (out door) as well as several banks, all with cash machines, plus estate agents, hairdressers etc. In short it has all the amenities you would expect of any twenty first century westernised urbanisation.

Below, This particular street is one of the main routes in to Noia. It skirts around the old district and towards the main square. "Santa Maria" church is on the opposing side of this road (August 2004).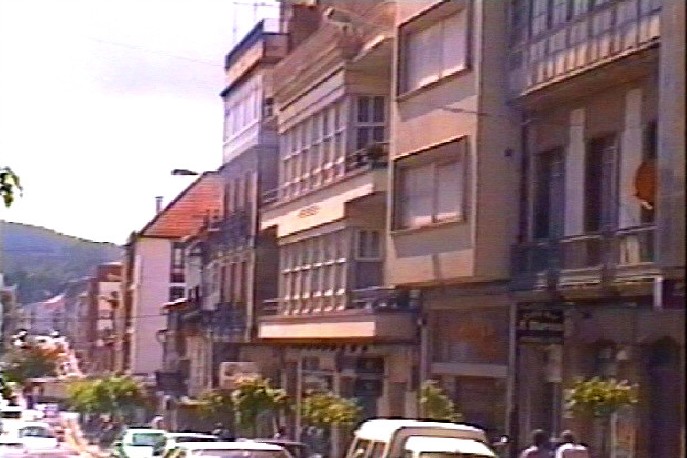 Within Noia a day can easily be spent walking around, having a coffee or something a bit stronger and just passing the time looking at the shops and buildings.
Cake shops, of which there are three (two of which have a cafe within them), are something special in Noia. In England the best cake shop I have benefited from is "Sterchis" in Filey, a cake shop from the past, but two of those in Noia are even better and very different. Cakes there are sold by weight and additionally, they specialize in "mini" cakes, one or two mouthfuls in size (this is the case throughout both Galicia and Spain). This means that you can get three or four mini cakes (all different) for the price of one standard cake. Ideal if you have a sweet tooth. The best of the three shops has a selection of thirty to forty different mini cakes depending on the time of day and the other two are not far behind.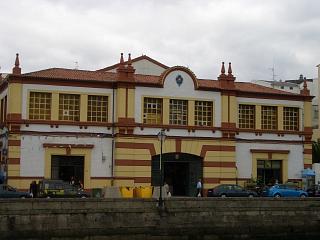 Swimsuit shops also seem to be a local specialty in Noia and there are at least four outlets dedicated to nothing but beachwear. Clothes are generally of high quality here, but the prices are fairly comparable with the UK and maybe a little bit more than you might be used to paying in the USA.
Above the old market building facing the rive.
Interested in seeing some more of Galicia's coastal towns? If so take a look at Ribeira, one of the the region's (and Spain's) largest ports. It is not the most attractive of towns, but it is still a very active fishing port and you can try some freshly prepared sardines there! For something a bit more picturesque, try Rianxo. This pretty seaside town has a port, a beach and some history too.

A boardwalk - new for Noia in 2007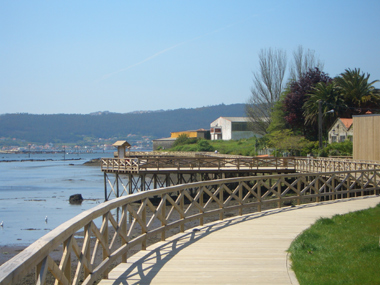 At the end of 2006 a new timber boardwalk was constructed around the north (right hand) side of Noia's bay area. This boardwalk is a good kilometer in length and projects slightly over the water. It has a couple of platforms with seating and is illuminated by sunken lights in the decking.
If you walk to the very end of the boardwalk you reach a grassed and paved area that faces the little boating port at Testal over the water. Your view is out into the estuary and beyond. This new feature of the town was very popular when we first saw it in May of 2007 and was full of walkers on the series of bright and sunny days that occurred during our visit.
Update 2014, since its construction this boardwalk has become very popular and the wood had aged and coloured to a darker grayish brown. The bulbs for the lights however seem to have run their course (and not been replaced), or been turned off, despite that fact that many people use the walkway at night and in the dark.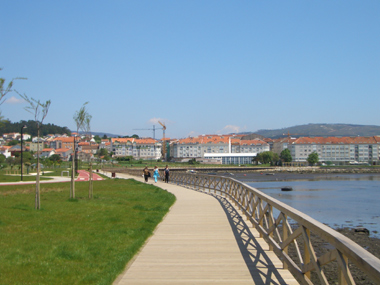 Shown above is a shot of the winding boardwalk heading away from the town, whilst right there is another photo showing the view as you look back in to Noia from about half way along the boardwalk.
New ria bridge 2014
Started in 2013 and completed in 2014, Noya now has a bridge that bypasses the town and, in so doing, removes most of the "through" traffic travelling between Santiago de Compostela and and a number of other towns further down and around the ria.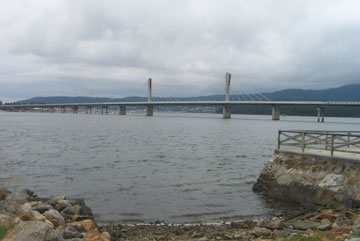 I think that the bridge is about 1.5km in length with a suspended central section. It starts at Testal and also connects to the new motorway route that runs to Santiago and beyond. The big benefit to both the town and those who previously had to commute through it is the removal of heavy traffic jams.
When it comes to aesthetics, some people that I have spoken to like it, others do not. For my part I can see the advantage of having the bridge, but there is no question that it mars a once beautiful view. But that is progress!