Buildings to see in Noia Galicia
If you visit Noia and want to take at look at some of its architectural highlights, this page should offer some guidance.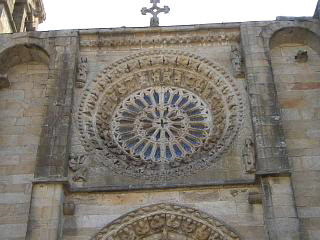 Noia, like many towns, has distinct areas within it originating from various cultural and architectural periods and these are reflected in the buildings of that time. The medieval area, at the heart of Noia's old town, offers several examples of large dense granite structures including "San Matino" church, as well as the traditional old plazas (alamedas).
Left is a close up of the circular window of Saint Martin's church, immediately above the main ached entrance which you can see on other pages.
The medieval quarter is not the only area in Noia to have buildings dating from this time and the original Convent, now connected to the town hall, dates from a similar period.
The cloisters of this convent are also still intact and can be inspected by visitors. Another, and quite possibly the oldest, building in Noia is "Santa Maria" church which you can see in the medieval pages of this section.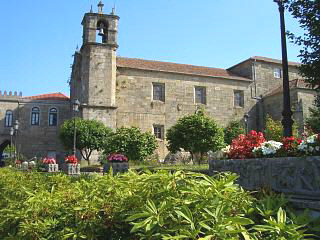 Right, The old Convent building in Noia, close to the main piazza.
Although many visitors to Noia hone in on the old district, there are several very important buildings outside this inner sanctum and this page is going to focus primarily on them.
The Casino building (yes there actually was a Casino in Noia), is now unoccupied, but is a splendid example of grandiose design and is located directly opposite the main plaza. It is built in Galicia's traditional granite and is intricately detailed. Originally two other equally impressive buildings occupied the adjacent plots, but in an act of butchery in the 50's or 60's they were demolished and eyesores erected in their place.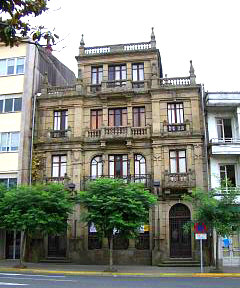 Right, Noia's former Casino, now in vacant possession.
On the "Medieval Part 1" Noia page, mention is made of the old Arch Bishop's residence, although no image is shown. To remedy that situation, a photo of this medieval building has been included here, although we must admit to being unable to find the Bishops coat of arms which is reportedly emblazoned somewhere on the houses facade.
In trying to trace exactly which property had been the in the clergies ownership, we were told (by a fairly reliable source) that two different houses were used by the bishop, but that the one we show below was the one commonly referred to.
Below, the aforementioned house of Noia's eminent religious leader.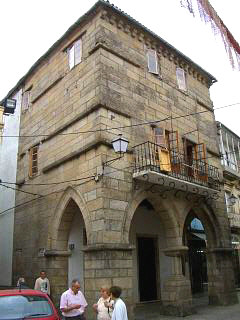 The next building in the list is nothing more than a traditional house of Galicia, but a particularly fine example. It occupies a spot on a corner of the old quarter and aptly demonstrates the aesthetic characterists of town houses in northern Spain. At ground floor level it is now a retail outlet, but has a central door with windows either side. Moving up a level you see windows with a wrought iron balcony and finally, on the third of the three floors, you have the indoor balcony or veranda, known locally as a "mirrador".
Below and to the right, the mirradored town house described above. The hanging baskets that you can see in shot are actually quite unusual in Galicia, although window boxes are popular.

Something a bit different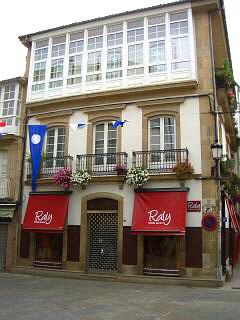 Although the older, and indeed ancient, buildings are the subject of many of Noia's visitors interests, some more recent examples are also worth a look.
The one below, although some what out of place, is a case in point. It is positioned close to the new town square and is a former dance hall, now a commercial premises, and it is "Art Deco" in design. Personally I like it and I also think it offers some punctuation between the medieval buildings that litter Noia - not that that is a bad thing.
Below, the old "Art Deco" Dance Hall, that saw plenty of activity in the 1940's and 50's and is not to everybody's tastes.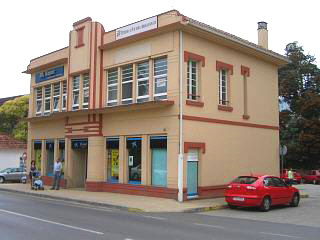 Moving on, the next picture is not so much a single structure, but a whole collection of inter-connected buildings on one of Noia's main routes in to and out of the town.
The reason I selected this photo is because it shows a range of building styles, all of which demonstrate the same features, but which offer interpretations that are modified and customized in the light of the time when they were built.
A typical street scene, common to many urbanisations in Galicia (below).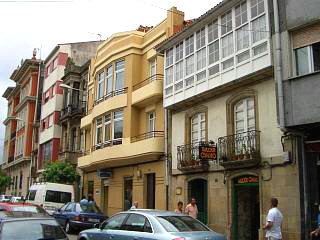 A further page, depicting more of Noia (Galicia) buildings of interest will be added as a link from this page at some time in the future. However, if you would like to see more photos of Galicia and Noia, please visit our Gallery which you can get to by selecting the "Gallery" button in the left hand menu.