Paris de Noia
The town of Noia has a local folk rock group called "Paris de Noia", who are well known throughout Galicia and popular on the fiesta concert circuit that moves from town to town during much of the year.
The band has a changing line up and has been going for over 30 years. They have recorded as a studio band in the past, but today are best known as one of the many festival playing bands (although they are larger than most). Pop bands, incidentally, are called orchestras in Spain (and Galicia).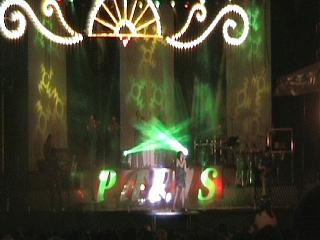 To the right, a photo of the band performing one of two shows in Noia at the August 2005 festival.
At the time of writing we had seen Paris de Noia twice, in 2003 and 2005, both times during the Noia five day fiesta that takes place in August. Since then we have seen and heard them on a number of other occasions. They also periodically play concerts in the town's club (Liceo).
Whilst their stage show is one of the best we have seen, with impressive lighting and elevator platforms, their music is definitely an acquired taste, at least if you are English, American or Australian. Trying to describe it is hard, but there is a Celtic element that, in our opinion at least, does not go hand in hand with pop or rock music (i.e. not like the Corrs, Gerry Raffery etc). That said, if you get the chance to see them take a look, they are certainly different and they cannot be accused of failing to put on a show, even if it is based on a fair bit of clowning around.
Up to a couple of years ago Paris de Noia had quite a good website (www.parisdenoia.net), but they have either sold it, or let it lapse and it is now owned by a promotions company. The new site appears to be parisdenoia.es if you want to take a look (there is no English language version and I think it is in the regional dialect too). It does however give tour and fiesta dates and they play quite regularly in a large club in Noia (although for residents and members only unless you buy a day ticket).