The Noia-Muros Bay
This page will tell you a little bit about some of the beaches in the Noia - Muros bay (ria) where you can get a tan, splash in the sea and generally chill out with the sand between your toes and the sound of the ocean in your ears.
Noia itself is at the mouth of one of Galicia's many "rias" and that ensures its neighbouring beaches have a certain level of protection from both the wind and the cooler temperatures of the Atlantic Ocean. The photo, below right, is of the beach known in "Gallego" as "la praia de Testal", which is Noia's nearest stretch of sand. (You can find out more about this beach on another page.)
Where are the Beaches?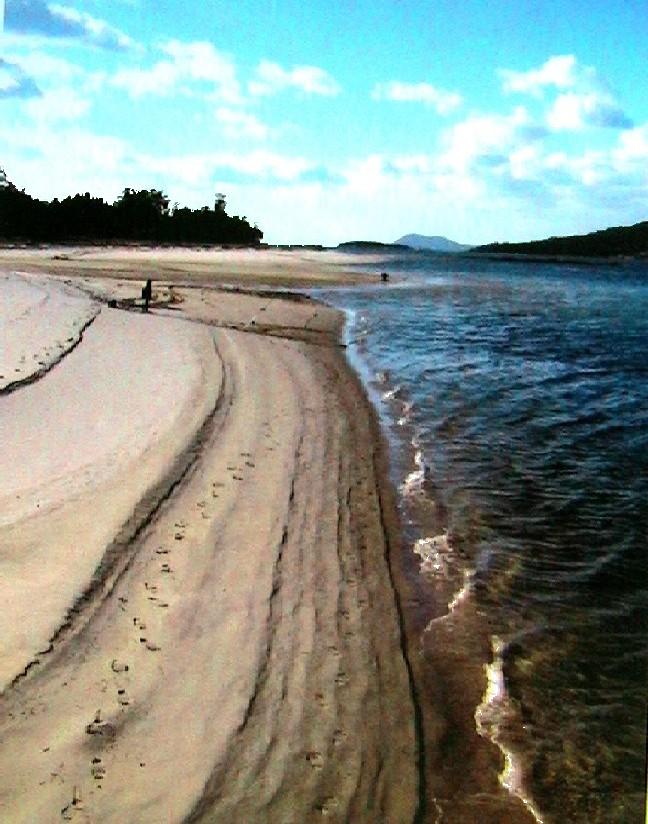 If you are looking for sun and sand and based in, or travelling from, the center of the Noia-Muros bay, you can head off in a northerly or southerly direction.
Heading North
The northerly route takes you in the direction of Muros. This town is at the north-most enterance of the "Ria de Muros-Noia" (Muros-Noia bay), and Noia can be found at its center.
On route to Muros, which is a leisurely 35 to 40 minute coastal drive, you will pass a number of beach side towns including "Serantes", "Esteiro" and "Abelleira". All are located in sheltered coves and all have vast expanses of sand at low tide which quickly cover with water when the tide is in.
Continuing north past Muros, you will now face open sea and this is clearly illustrated by both a decrease in the temperature of the water and an increase in the size of the waves. You will sometimes notice a change in the colour of the sand as you leave the whiter finer grains of the "ria" side beaches and encounter the slightly coarser golden grains of the bays facing open sea - but this is not consistent.
If you visit beaches like these you need to be aware that not all of them will be policed by lifeguards and that the currents can be strong. However, two excellent beaches lie just beyond Muros. One is San Francisco which gets incredibly busy in August, and the other is Carnota. Carnota is 7km long and in 2007 was voted the second best beach in the world. By now I will no doubt have added a page about Carnota, so search the site to find out more.
Heading South
If you opt to travel south from Noia, you will again take a coastal route, this time looping round the southern swathe of the bay which has the municipality of "Porto do Son" at its enterance. Traveling in this direction you will again pass a number of beaches,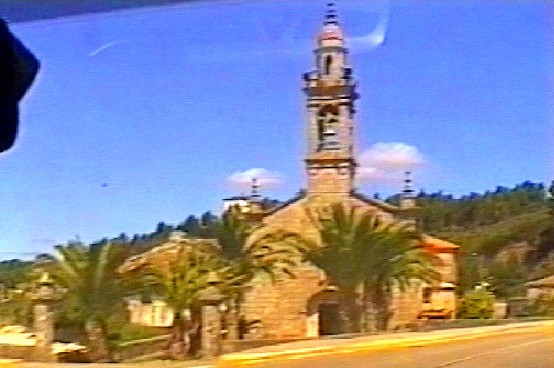 some will be visible from the road, but others will be hidden and you will need to look out for the often insignificant signs saying: la praia de "beach name". Coves passed on this route include those at, "Testal", "Ornanda", "Porto Sin", "Aguieira" and "Porto do Son" itself, but there are many others.
Some beaches will of course be more difficult to miss than others, including this one (left) which quite literally has a church built on it. I don't know if they offer "open air" services.
If you continue beyond "Porto do Son", you can stay on the coastal road heading for the town of "Ribeira", a major fishing port. Beaches will be plentiful and two of our favourites are "la praia de Queiruga" and the massive beach found at the National Park, "Complexo Dunar de Corrubedo e Lagoas de Carregal e Vixan".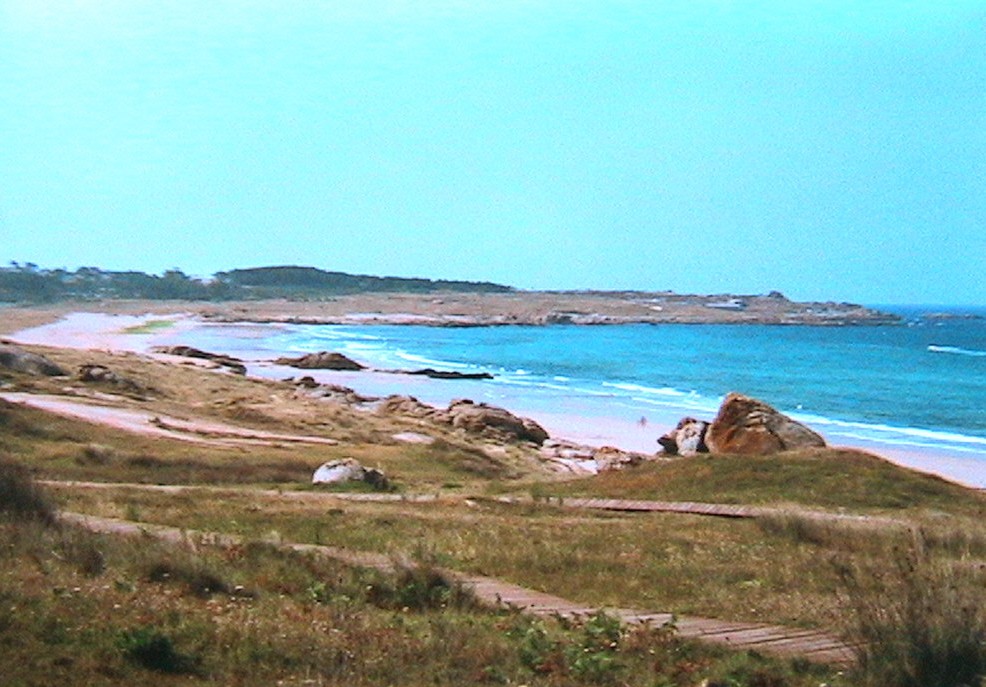 The bay at "Corrubedo" (right) has lifeguards, coastal walks, a visitors center and cafe. Is "nature reserve" status also makes it an excellent spot for those interested in bird watching.
Nudist beaches
Whilst we like to keep something on at all times, the general attitude towards nude bathing seems pretty relaxed on the beaches close to Noia. Every beach I have visited seems to tolerate topless tanning by both genders and we have seen nudists on some of the larger and quieter beaches (I didn't look - really). If you want to sunbathe in your "birthday suit" I think the best course of action is to find a beach where someone is currently doing just that. If you want official guidance from signs, I am afraid you will not find them. Incidentally Noia's closest beach at "Testal" is definitely not nudist, although a small number of people do go topless.
More beaches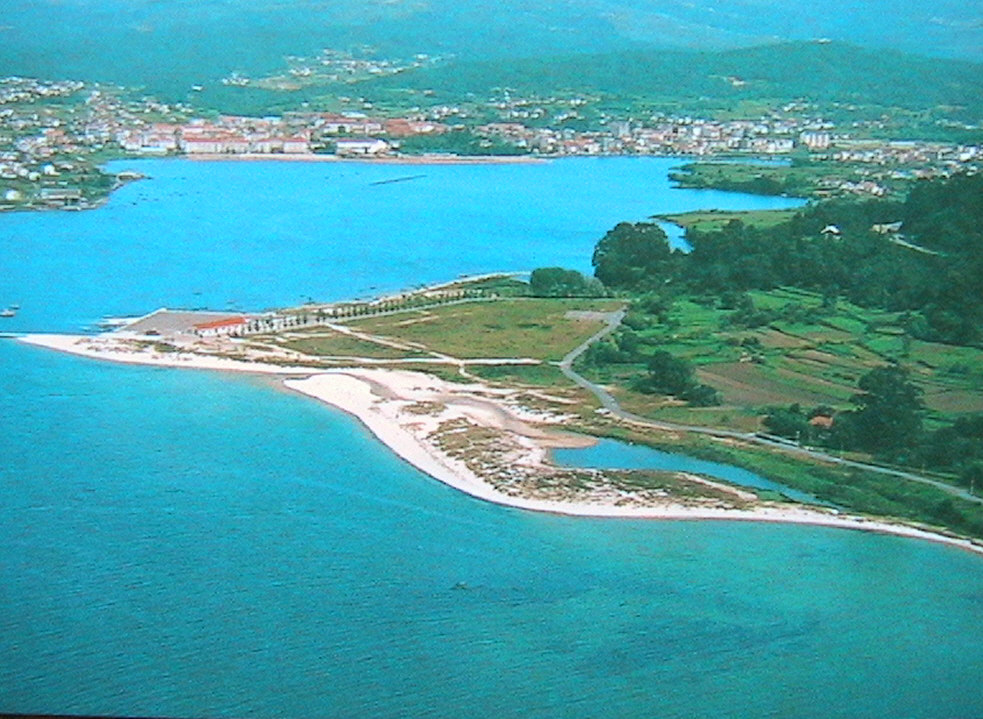 To find out more about the beaches of "Queiruga" and "Corrubedo", check out our beaches section which you can reach via the menu in the left column. If you want to see more of "Testal" (shown to the right), check out the next page in this Noia section, which you reach from the sub menu on the right.