Noia Galicia - Medieval district: 2
Throughout Noia there are many examples of Spain's Galician style of architecture and, as in all towns and cities, it is a good idea to look up to the original structures above what are often shop or business premises at ground level.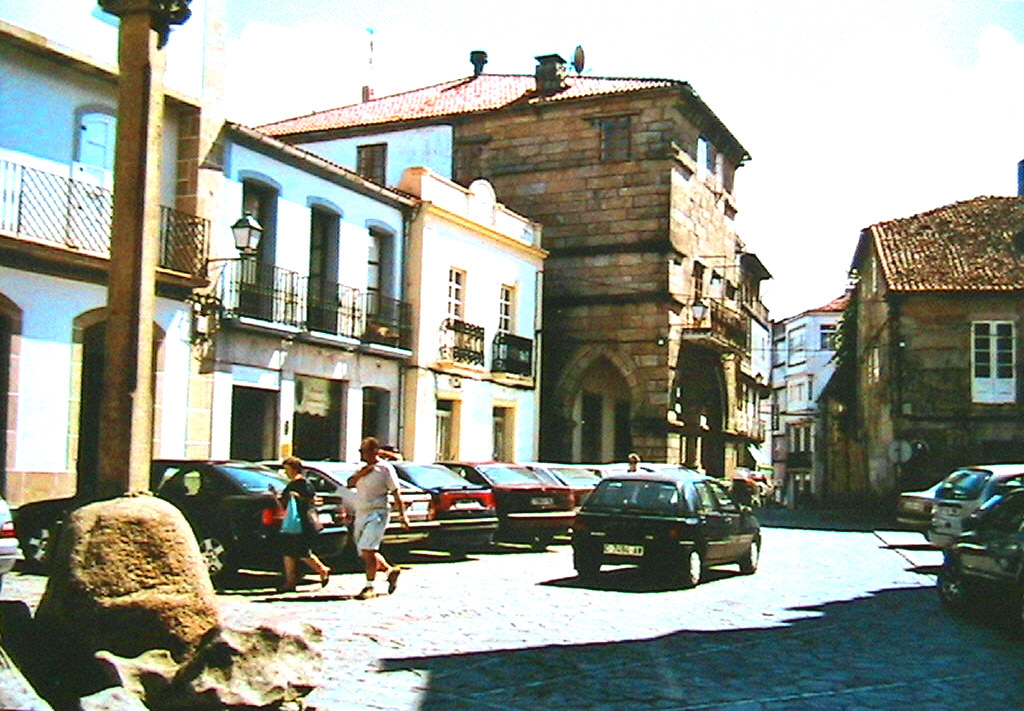 Many of the larger and older buildings, including churches and civic structures, are in the Gothic or Romanesque style and additionally the "mirador" (enclosed balcony design), although more recent, is common throughout Noia and most Galician towns.
Right, is a typical street, just off the medieval district in Noia. The location of this shot is at the site of one of the Noia's oldest piazzas close to the church of "San Martino de Noia". Just in shot, on the left of this photo, you can see what appears to be part of a stone column. In fact this is the base of a stone cross, found in all of Galicia's village squares and known locally as a "cruceiros". You can also spot these "cruceiros" on roads and paths.
The church of Santa Maria in Noia, Galicia

Although not in the medieval quarter itself, another former church (now a museum), "Igrexa de Santa Maria" (St. Maria's), dates back to 1327. This structure was built in the Marineiro style and has housed within it a collection of tomb stones, some dating back to the fourteenth century.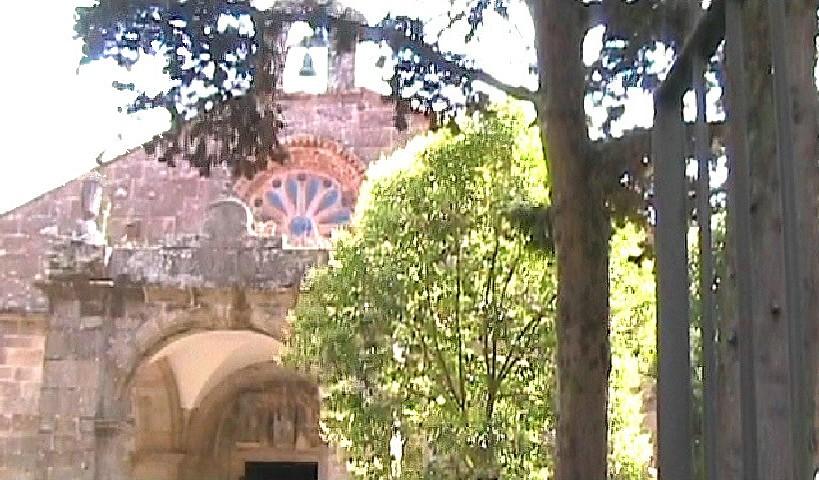 It also has an impressive portico to the altar and is well worth a visit. St. Maria's also has a cemetery which, in addition to containing grave stones, also holds "baldachins". These were gruesome structures used to hang criminals in the 16th century. It was neither a good or healthy idea to misbehave in Noia during the period of the Spanish inquisition, expecially when one of your neighbours was the Bishop and therefore the representative of the "Grand Inquisitor".
Above and left is an external view of the churches simple facade. St. Maria's is literally a two minute walk from Noia's main plaza.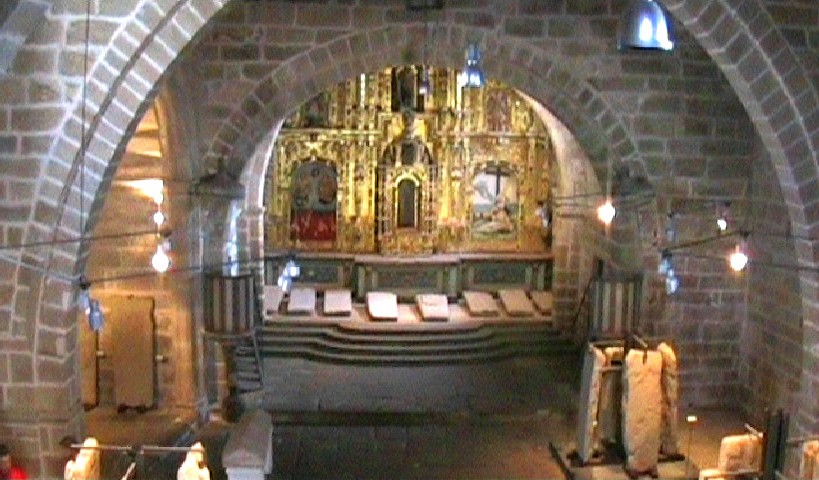 To the right, a photo showing the inside of the Santa Maria's (church museum) taken from the balcony level. The Alter is highly ornate (Noia July 2004).
Although the church is no longer active, the cemetry still is, and if you are a none Spanish "English speaker" you will be amazed at the floral displays around the graves
Other Buildings in Noya
Buildings offering some historic, architectural or tourist interest litter most of Galicia's populated areas and tend to be found in the older districts of the location in question. Below, This is one of the original old streets in Noia and it pretty much sums up what you can expect to see in this part of Spain.
The golden rule, when visiting places like Noia, Muros, Padron and other similar spots, is not to be put off if your first glimpse of the town in question is less appealing than you expected. There may be "diamonds in the mine" if you just take the time to explore a little bit and try to find them. Frequently the older districts, as with Noya, have become enclosed by newer developments, but they are still there and waiting to be explored by the adventurous tourist.
As a generalisation, Civic and religious buildings will be on a larger and more impressive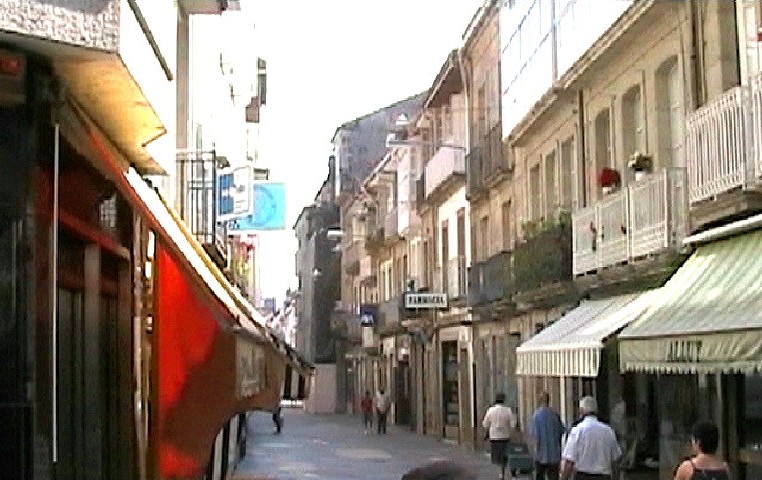 scale than domestic properties and they will also represent a grander or higher aesthetic style. That said it is the smaller and more humble buildings that create the underlying atmosphere and the mix of both domestic and business properties on any street in Noia will give you the chance to whiteness both.
If you want to see a couple of Noya's other interesting buildings you could look at the Casino which, although currently vacant, has an elaborate facade and faces the main square. Alternatively, for something a bit "out of keeping" with everything else, take a look at the former "Dance Hall" which is pure "Art Deco", and again faces the main piazza. Accessed from, but not actually in, the medieval quarter, is the indoor market and the shops and bars lining the route between the new square and "San Martino" church are almost all of historic interest.
nadia noia