Help, advice and Information in Noia
Information Sources
If you are looking for information in Noia, there is a small wooden tourist cabin on the main plaza (la Alameda). This is manned during normal working hours, though not by English speakers, although they do have a couple of leaflets in English. The cabin is shown to the right in the photo below.
Noia also has two cyber cafe's (at least), one at the ground floor level of the pink apartment building adjacent to the large piazza. (So you can always access this site if you need to find out something.)


There is also a tourist centre at Porto do Son, a short drive south down the coast from Noia. It is a stone building and is directly opposite a church that is built next to the beach. This center also has some English language guides and some of the staff speak a bit of English.

There is also another small tourist cabin by the harbour at Muros, although this is just as limited as the one in Noia.
Emergencies
p Noia's Police station is on the main plaza with its entrance to the left side of the stone town hall. The council offices are also in this building.
h The nearest major hospital to Noia is in Santiago de Compostela, although there are treatment clinics in Noia.
Post office
There is a post office in Noia (the spanish word for it is "Correo") and as opposed to the red branding in Britain, Correo's are yellow in Spain.
You can also buy post cards, phone cards and stamps at news agents/tabaconists. You will not however find any English, French or German language news papers or magazines. Regretably I have to ammend this last statement and say that both "The Sun" and "The News of the World" are now sold in Noia (July 2005) - not all progress is good!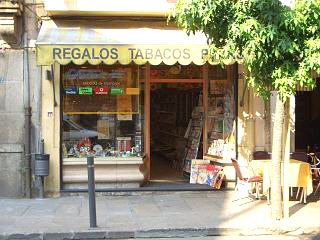 A particular shop that we always call in at that has plenty of postcards, keepsakes and other trinkets, is a tabaconist on one of Noia's main one way streets (it is on the opposite side of the road to Santa Maria's church). Whilst they don't speak English, they will go out of their way to help you and are extremely friendly. There is a photo of their shop to the right/above. They have some great key rings (fobs).
Car hire
If you somehow get to Noia and decide while you are there that you want to hire a car, then there are at least two outlets from which you can do just that.
Public and other transport
There is a bus station in Noia from which all the various buses depart. It is located between the main town plaza and the bay. taxis can usually be found parked on the main road adjacent to the town square.
Currency
Use your credit or "switch" card in a cash machine (there are plenty) and it is the cheapest option by far.
Asking for help
If you need help in Galicia and you don't speak Spanish you might have a slightlanguage problem. But do bear in mind that in the 1960's a huge number of Galicians left Spain to work abroad, many in English speaking countries. As a result most Galicians have a friend or family member with a UK connection and some understand a bit of English.
The golden rule for communicating with anyone like this is to speak slowly. One of my wife's cousins has an extensive English vocabulary and can translate a Spanish conversation to English very competently however, he does have difficulty understanding an English speaker (me) due to the accent and speed of vocalization.
If you want a few language tips and basic phrases that will help you in Galicia, click on the Spain button on the left hand menu and then look for "Language tips" in the sub index on the right.
English speakers in an emergency
If you really need to make yourself understood for some extreme reason (e.g. a medical emmergency), then here is where you can usually find some English speakers. If you look at the "Noia Suggestions" page, you will find more details on the locations of the people and restaurants mentioned below
If you are near the main square, the "Equis" bar has a waiter speaks some English.
If he is still there, one of the brothers who owns and runs the "Marico" restaurant also speaks some English.
If you are in the medieval district, the owner of the "la Tasca" bar and restaurant speaks good English (Sorry he has now left).
Vegetarian eating in Noia
Sorry, but the Galicians are enthusiastic meat eaters, although you will be fine if you can eat fish and sea food and of course pimientos de Padron.