Noia's 2005 fiesta bands
Paris de Noia
"Paris de Noia" opened the first night of the San Bartolomeu fiesta at 10.30pm on Wednesday 24 August with a show that lasted about an hour and twenty minutes. We noticed that the word "Paris" had increased in size at the expense of the word "Noia" on both the stage set and marketing items they were selling and giving away. below, Paris de Noia in concert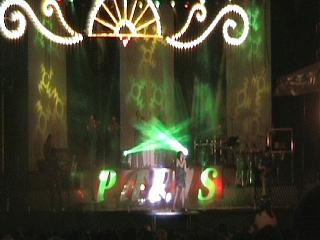 If you have read any of my previous comments about this band, you will know that I am not a fan. They have been around for a long time (with a changing line-up) and these days they favour posturing over performance. They also see themselves as musical heroes in Noia .
The vocal line up of Paris de Noia was as it had been in 2003 (when we last saw them at the fiestas) and the constant talking and inviting members of the audience on to the stage was just I recalled from that previous performance. The few songs that they actually got round to playing seriously were very much in a strange Celtic rock style which I have only ever seen in Galicia. Their stage had also diminished in scale - In 2003 they had video screens and a truly impressive stage rig, but this year they were just run of the mill. That said, I must confess to enjoying the bands that play a mix of music that includes British and American rock and pop and Paris de Noia don't fall into that category.
Master
This band gave us a shock. They introduced themselves and then (in Spanish) said good evening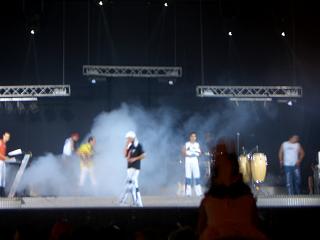 Noia and good evening Leeds (my home city in the UK). I questioned my wife as to whether I had miss heard them, but she confirmed that was what had been said. Are they visitors to Galicia Guide, and after a good review? If so it worked.
Master started off with a Santana song and clearly had the best lead guitarist we heard at the fiestas – by a mile. They did what all the good fiesta bands should do, that is play a mix of all kinds of music.
There are always plenty of 50, 60 and 70 + year olds at the fiestas and this generation like to dance, so the good bands play pop, rock, salsa, ballads and even waltzes to keep everyone happy, and Master did all of this.
I noticed that as the music moved from main stream pop, back to the typical fiesta fare, the lead guitarist took a back seat role and gave up the lead vocals. But Master has a couple of other singers and seemed to keep most of the crowd entertained effectively.
Alkar (day two of the fiestas)
This band were (in our opinion) without question the best fiesta band at Noia this year.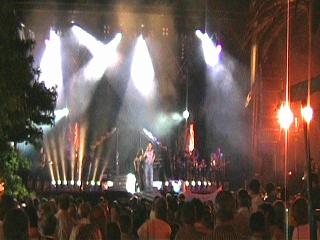 They had two male and one female vocalists and started their performance off with a song called "Right between the eyes", originally by a band called Wax. I loved this song at the time and although it failed to go top 40 in the UK and USA, it made number one in Spain.
From this point on the concert got better and better and was put together with humour at the fore. Covers included music as diverse as Bon Jovi and Abba and a highly entertaining medley of Micheal Jackson songs with all three vocalist simultaneously dressed as Jackson in his various album guises, Thriller, Bad etc. The typical corny dance routines were really slick and the lighting rig and stage were both excellent. The only downer, the Galician crowd, they simply did not get it. When we spoke to various friends and family who were there, they all though the other band of the night, "Philadelphia" was better. They wanted bagpipes, penny whistles and a more Celtic or folky sound. We disagreed, but when all is said and done (an Abba pun), it was their festival and not ours.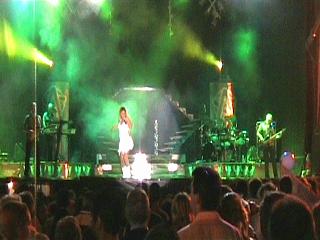 Other fiesta bands
Other night time musical performers at this years (2005) fiestas were, the aforementioned Philadelphia, an opera singer called Fransisco, who was very popular, a band called Suavecito, who played salsa an nothing else, Ukapa, a group from Portugal who sang in Portuguese and were not well liked (in fact they were booed), Pontevedra, who were literally "rained off" during their second performance and a couple of other groups who we missed.
Alternative music performances also took place at the Tapal square and these included, folk, jazz fusion and heavy rock performers. We saw a couple of these bands and thought them quite good.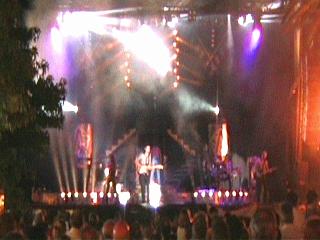 A final picture of Alkar, who were the best fiesta band of Noia's 2005 celebrations in our opinion.


Return to main 2005 festival page